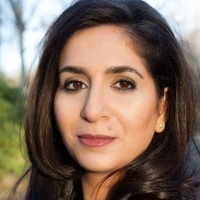 Signature Lecture: Souad Mekhennet
A journalist and author who has written about her experiences covering terrorism in some of the world's most dangerous countries, will headline the 39th annual McGill Lecture.
The McGill Lecture will be given by Souad Mekhennet, national security desk correspondent at The Washington Post and author of "I Was Told to Come Alone." The lecture, "Being a Female Reporter Behind the Lines of Jihad," will start at 4 p.m. in Studio 100. It is part of the University of Georgia Signature Lecture Series.
Mekhennet is a German journalist and author whose reports on terrorism have been appeared in The New York Times, the International Herald Tribune and NPR. She is currently a correspondent on the national security desk at The Washington Post. Since 9/11, Mekhennet has covered conflicts and terrorist attacks in Europe, North Africa and the Middle East. She has gained rare access to the inner circles of the Taliban, Al-Qaeda and ISIS, and her latest book, "I Was Told to Come Alone: My Journey Behind the Lines of Jihad," describes some of her most dangerous assignments.
Wednesday, November 15, 2017 at 4:00pm to 5:00pm
Grady College, Studio 100
Event Type

Audience

Tags

Website
Hashtag

Event Contact Name

Diane Murray

Event Contact Phone Number

706-542-5038

Event Contact Email

Subscribe