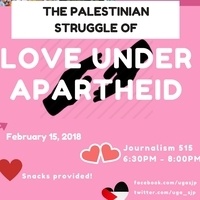 Discussion: The Palestinian Struggle of Love Under Apartheid
What do the barriers that stifle Palestinian relationships look like?
From checkpoints to family reunification laws, join the discussionto learn about some of the implications of Israel's crimes against indigenous Palestinians and what can be done to change the status quo.
Food will be served!
Thursday, February 15, 2018 at 6:30pm to 8:00pm
Journalism Building, Room 515
120 Hooper Street, Athens, GA 30602
Event Type
Event Contact Name

Raphael Eissa

Event Contact Phone Number

912-247-5903

Event Contact Email

Subscribe