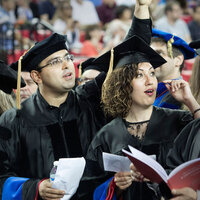 Spring 2018 Graduate Commencement
As the birthplace of higher education, the University of Georgia has fostered a tradition of academic excellence, intellectual inquiry, and service to others since 1785. For our graduates, Commencement is a beginning, the start of the next chapter in their lives. At Commencement, we celebrate the outstanding accomplishments of our students completing advanced degrees.
Full details at https://commencement.uga.edu/graduate.
Friday, May 4, 2018 at 9:30am
Stegeman Coliseum
100 Smith Street, Athens, GA 30602
Event Type

Audience

Topic

Tags

Website
Hashtag

Subscribe