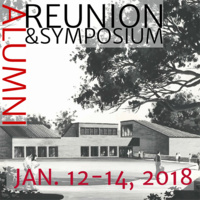 Odum 50/10 Symposium & Alumni Reunion: The Past, Present & Future of Ecology
The Odum 50/10 Symposium & Alumni Reunion celebrates 50 years of ecology at the University of Georgia, from the founding of the Institute of Ecology in 1967 to the establishment of the Odum School in 2007 to today.
The symposium features keynote speakers Monica Turner, Ph.D. '85, and Beth Shapiro, BS/MS '99; sessions addressing the foundational discoveries made at the Institute of Ecology and connections with current challenges in the field featuring alumni and faculty speakers; a panel discussion on moving forward to a stronger, more diverse and welcoming ecology; a student poster session; updates from alumni about their current activities and an ecology careers drop-in networking session.

Keynote Speakers:

Monica Turner, Ph.D. '85, a member of the National Academy of Sciences since 2004 and immediate past president of the Ecological Society of America, is a landscape ecologist who studies the ecosystem effects of fire and other disturbances and the ecological effects of climate and land use change.

Beth Shapiro, BS/MS '99, who received a MacArthur "genius" grant in 2009, studies molecular and genetic evolution and ancient DNA to understand how populations and species change through time in response to environmental change. Her most recent book, How to Clone a Mammoth: The Science of De-Extinction, was published in 2015 by Princeton University Press.
For the more details and to register, visit odum5010.ecology.uga.edu.
Saturday, January 13 at 8:00am to 9:00pm
Ecology Building
140 E Green Street, Athens, GA 30602
Event Type

Audience

Topic

Website
Cost

Registration fees apply

Department

Hashtag

Event Contact Name

Beth Gavrilles

Event Contact Phone Number

706-542-7247

Event Contact Email

Subscribe