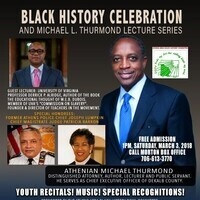 Michael L. Thurmond Lecture Series: Derrick P. Alridge
The Michael L. Thurmond Lecture Series, in celebration of Black History, presents guest lecturer Derrick P. Alridge, University of Virginia. Alridge is the author of the book The Educational Thought of W.E.B. Dubois, and member of UVA's "Commission on Slavery." He is also the founder and director of Teachers in the Movement.
Special Honorees include: former Athens Police Chief Joseph Lumpkin and Chief Magistrate Patricia Barron.
Athenian Michael Thurmond is a distinguished attorney, author, lecturer and public servant. He serves as chief executive officer of Dekalb County.
Sponsored by the Athens Area Black History Bowl Committee and the University of Georgia History Department. Other sponsors include: Mayor Nancy Denson, WXAG 92.7FM/1470AM, Athens Anti-Discrimination Movement, Denny and Peggy Galis, Dr. Willie and Tommie Farmer, Athens Land Trust, Harriett Green Church, Morton Theatre Corp., Charles and Ruby Worthy, Fred O. Smith Jr., John & Constance Jeffreys, Dr. Diane Dunston, Athens Interest Group of the Association for the Study of African American Life & History, Friends of Clarke Co. School District, UGA's Office of Institutional Diversity, Center for Social Justice, Institute of African American Studies, Taylor Pass for Athens-Clarke Co. Commission District 2, Chess & Community, Chalis Montgomery for Congress, KD Media, and the Athens Council for African American Affairs.
Saturday, March 3 at 1:00pm
Morton Theatre, downtown Athens, GA
Event Type

Audience

Topic
Hashtag

Event Contact Name

Morton Box Office

Event Contact Phone Number

706-613-37710

Subscribe