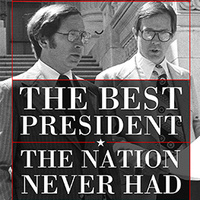 Lecture: Roland McElroy
The Best President the Nation Never Had is an insider's view of Sam Nunn's unlikely rise from unknown backbench Georgia legislator to one of the most influential U.S. senators to ever serve, a man known for his exhaustive mastery of issues, who marched ramrod straight to an ethical standard second to none.
Roland McElroy will discuss the journey he took with Nunn as he presented a message of common sense conservatism to the people of Georgia in 1972. Nunn's principled approach to making government work through cooperation and compromise, and his demonstrated mastery of complex issues, placed him among a rare few considered every four years for the highest office in the land.
McElroy was a key participant in Nunn's first election to the U.S. Senate in 1972. Their working relationship continued in Washington, D.C., where McElroy served as press secretary and, later, chief of staff during his 15 years with Nunn. McElroy holds degrees in economics and journalism from the University of Georgia. He resides in Falls Church, Virginia.
Tuesday, November 14, 2017 at 4:30pm
Richard B. Russell Special Collections Libraries, Room 285
300 S Hull Street, Athens, GA 30605
Event Type
Event Contact Name

Leandra Nessel

Event Contact Phone Number

706-542-3879

Event Contact Email

Subscribe