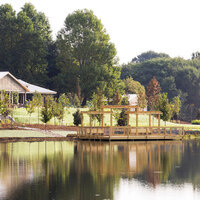 Lake Herrick Restoration Project Dedication
The Lake Herrick Watershed Restoration Project is preserving and restoring valuable natural resources on the University of Georgia campus.
Named for Allyn M. Herrick, former Dean of the Warnell School of Forestry and Natural Resources, Lake Herrick was commissioned in 1982 as a recreational resource for UGA and the Athens community. Following 20 years of use and increased development in the watershed, Lake Herrick was closed for recreation in 2002. Through dedicated efforts of University students, faculty, and staff—and generous support from the Georgia Power Foundation and the Riverview Foundation—Lake Herrick has reopened, creating new opportunities for recreation, research, and experiential learning.
The first two phases of the watershed restoration project include rehabilitation of the Oconee Forest pond and improvements to the Lake Herrick shoreline. The first phase adds a walking trail and native plants while improving the Oconee Forest pond to prevent sediment and pollutants from passing downstream to Lake Herrick and the North Oconee River. The Lake Herrick shoreline improvements create a terraced lawn for activities and events, an accessible dock for launching kayaks and canoes into the lake, and a walking trail through native vegetation along the lake's edge. An overlook dock and renovation of the Lake Herrick Pavilion provide enhanced opportunities for engagement within this treasured campus landscape. Lake Herrick once-again will serve as a place of respite for visitors and a living laboratory for generations to come.
Speakers include:
Jere W. Morehead, President, University of Georgia
W. Dale Green, Dean, Daniel B. Warnell School of Forestry and Natural Resources, University of Georgia
Eric Atkinson, Associate Vice President for Student Affairs, University of Georgia
Sari Leff, BSME, Mechanical Engineering, University of Georgia '20
Wednesday, October 17, 2018 at 2:00pm
Lake Herrick, Pavilion
111 Lake Herrick Drive, Athens, GA 30605