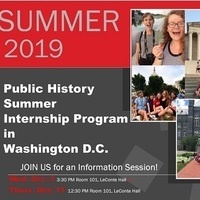 Info Session: Public History Internship Program
Learn about the Public History Internship Program in Washington, D.C., at this information session.
Program Director Dr. Akela Reason will discuss eligibility requirements, program costs, available courses and the application process.
In recent years program students have interned at institutions and historical sites such as the Tudor House, Library of Congress, national Archives, the American Historical Association, the National Museum of African American History and Culture, Ford's Theatre and other sites.
Open to all majors, including undergraduate and graduate students.
Thursday, October 11, 2018 at 12:30pm to 1:30pm
LeConte Hall, 101
250 Baldwin Street, Athens, GA 30602
Event Type

Audience

Topic

Website
Department

Hashtag

Event Contact Name

History Department

Event Contact Phone Number

706 542-2053

Event Contact Email

Subscribe