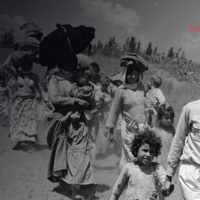 From al-Kabri to Lebanon: Voices of the Nakba
Supported and facilitated by The Free Palestine Movement, International Solidarity Movement - Northern California, the al-Awda Palestine Right to Return Coalition, and Black4Palestine, Students for Justice in Palestine at the University of Georgia is proud to bring the 2017 Nakba Tour to the University of Georgia.

Palestinian refugee Khawla Hammad (Umm Mousa), 84, will recount her experiences as a victim of the Nakba, or "The Catastrophe," having been displaced at the young age of 16 from her village of al-Kabri in the Galilee.
She will be joined by Amena al-Ashkar, a 23 yr. old Palestinian refugee working as a journalist and translator, whose great-grandparents were displaced in 1948. She herself has resided in refugee camps all her life.
Tuesday, December 5, 2017 at 7:00pm to 9:30pm
Zell B. Miller Learning Center, 148
48 Baxter Street, Athens, GA 30602
Event Type

Audience
Cost

$10

Group

Event Contact Name

Raphael Eissa

Event Contact Phone Number

912-247-5903

Event Contact Email

Subscribe