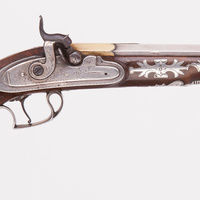 Exhibition: Artful Instruments: Georgia Gunsmiths and Their Craft
This exhibition gathers a range of early Georgia firearms and related accessories from both private collections and other museums. For example, it includes a flintlock long rifle dating 1830–40, crafted by Georgia gunsmith Wiley Grover Higgins and decorated with a gamecock motif. Like many of the decorative and applied arts in the state, gunsmithing in Georgia has been overlooked except by a devoted group of collector-scholars. As recently as this year, a major collector of material culture in the mid-Atlantic referred publicly to the longrifle forms that were "made as far South as Charlotte, N.C." The Henry D. Green Center for the Study of the Decorative Arts attempts to identify and make accessible art forms that have received less attention in our region.
Gunsmithing incorporated many crafts, such as silversmithing, casting and woodworking. Rifles represent the quintessence of craft in 19th-century Georgia, and the objects in this exhibition are some of the finest artistic achievements in the state at the time. The exhibition will be on view during the ninth Henry D. Green Symposium of the Decorative Arts (Feb. 1–3, 2018) and will be accompanied by a fully illustrated exhibition catalogue published by the museum.
The museum is open Tuesday, Wednesday, Friday and Saturday from 10 a.m. to 5 p.m., Thursday from 10 a.m. to 9 p.m., and Sunday from 1 to 5 p.m. (closed Monday).
Sunday, February 25
Georgia Museum of Art
90 Carlton Street, Athens, GA 30602
Event Type

Audience

Topic

Website
Cost

Free

Group

Event Contact Name

Hillary Brown

Event Contact Phone Number

706-542-4662

Event Contact Email

Subscribe